JKT48 Wiki NEEDS HELP!!!
JKT48 Wiki needs help for contributing and especially for updating available articles. Let's help JKT48 Wiki or if you interested to be an admin at this wiki please look: JKT48 Wiki:Requests_for_adminship
Template:Main Slider Template:Main Introduction
News
Sunday, 21st December, 2013

Saturday, 28th December, 2013

Nat's birthday (17th)
Stella is graduate.
What's JKT48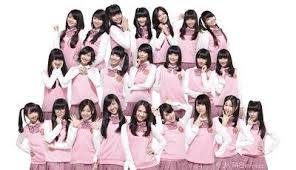 J - Joyful, K - Kawaii, T - Try to be the best. JKT48, Yay!!
JKT48 (read as "J. K. T. Forty-eight") is an Indonesian idol group whose name is derived from its base city of Jakarta and the Japanese idol group AKB48. Formed in 2011, it is the first AKB48 sister group outside of Japan and adopts the concept of "idols you can meet". Fans can attend daily performances at the group's theater, which was built as a close replica to the AKB48 Theater in Akihabara.
Click here for more...
Template:Twitter Template:Featured Article
Template:Main Poll Template:Main Quote Template:Yasushi Akimoto
3 Things You Must Know About JKT48
(MONTHLY UPDATE)
The latest version was edited on 31st January, 2013. This template must be updated by monthly. If you think this is late, disscuss with admin to update
JKT48 has 3 captains. The group captain is Melody, the J team captain is Kinal, and the KIII team captain is Naomi.
JKT48 fansgroup name isn't wota. Actually, wota is the name of the fans of Japanese groups (frequently called J-Popers). At a show, Ghaida has told about it. The fans of JKT48 frequently call themselves as JKTers, but JKT48 call their fansgroup as Fans.
JKT48 isn't a girls-band. Actually, they're an idol-group.
JKT48 Wiki was created on December 10, 2012
Community content is available under
CC-BY-SA
unless otherwise noted.